Key takeaways from ICAEW's webinar on good governance in the public sector
Key takeaways from ICAEW's webinar on good governance in the public sector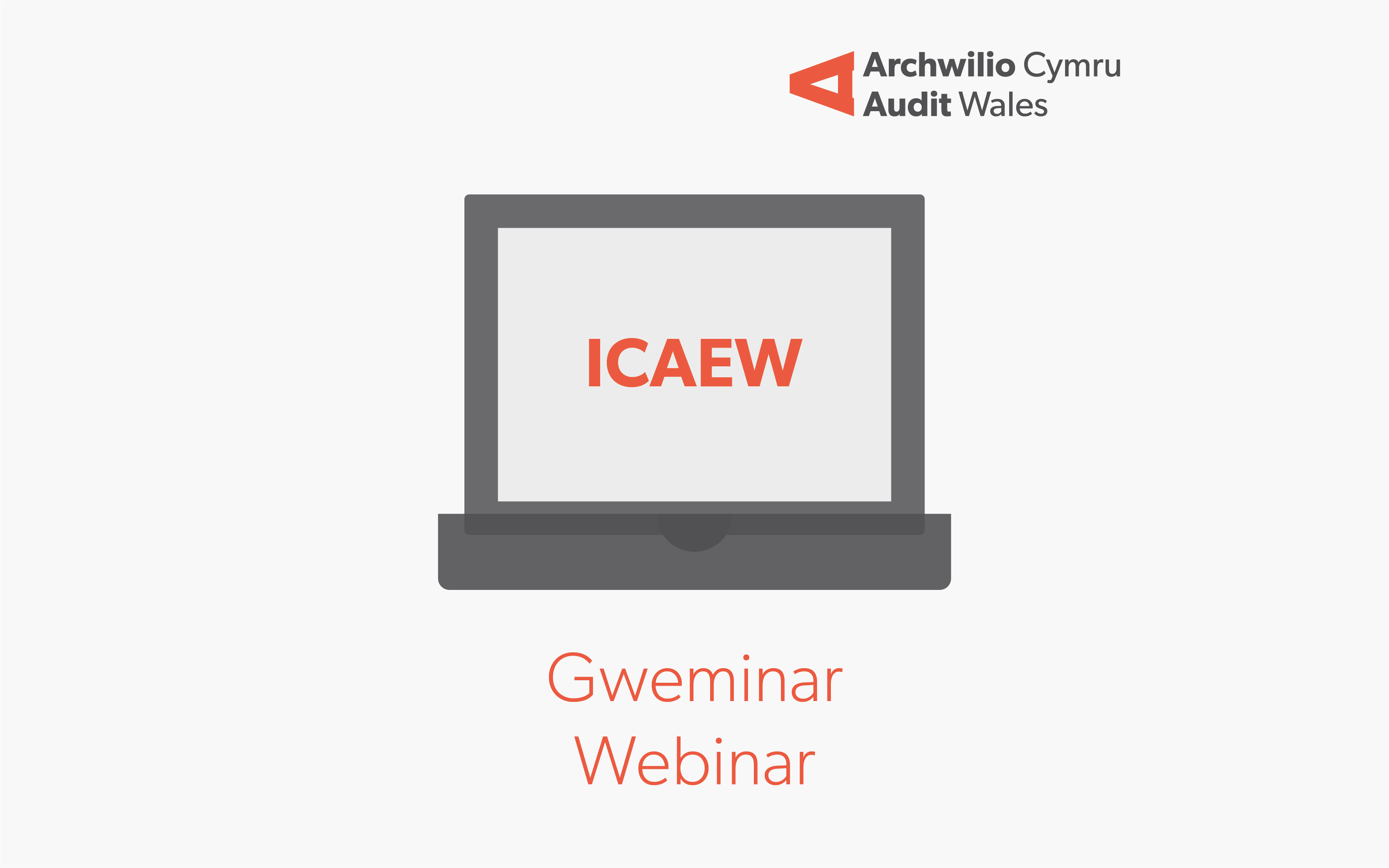 On 26 January, our Auditor General, Adrian Crompton, joined ICAEW's UK Public Sector Director, Alison Ring OBE FCA, for an ICAEW-hosted webinar about how Non-Executive Directors (NEDs) can play a part in improving governance in the public sector.
The webinar began with a short presentation from Adrian and was followed up by a Q&A session between Adrian and Alison.
Adrian spoke on:
The role of Audit Wales

Audit Wales' perspective on the nature of the current challenges for the public sector and why good governance is vital

How NEDs can contribute to effective governance and how our work may be useful for NEDs
Role of Audit Wales
In his opening remarks, Adrian initially talked about his role and that of Audit Wales, and about the focus set out in our Annual Plan 2020-21[opens in new window] to:
Assure the people of Wales that public money is well managed
Explain how public money is being used to meet people's needs
Inspire and empower the Welsh public sector to improve
Current Challenges
Adrian moved on to talk about the current challenges facing the public sector, with the Covid 19 pandemic unsurprisingly topping that list. He talked about the tremendous joint effort between audit teams and audited bodies that resulted in the vast majority of 2019-20 accounts being signed off in accordance with the Welsh Government's revised timetable.
On the Value for Money front, Adrian talked about the need to refocus our work to avoid impacting front line delivery and to look at issues emerging from the pandemic. In particular, he talked about our Covid Learning Work [opens in new window] and the good practice we have seen, and the lessons identified, through that work. He also talked about our work looking at the Procurement and supply of PPE during the COVID-19 pandemic [opens in new window] and the recently published report - Doing it Differently, Doing it Right? [opens in new window] – that looked at governance in the NHS during the COVID-19 crisis.
Adrian also spoke about other challenges facing the public sector at the moment including Brexit, the climate emergency, implementing the Well-being of Future Generations Act 2015, the immediate socio-economic challenges we face in Wales and responding to the opportunities and threats brought by advances in information technology. Our response to these and other issues is set out in our Annual Plan 2020-21 [opens in new window].
How Audit Wales can Support NEDs
Adrian then turned to ways in which Audit Wales can support NEDs. These included:
ongoing dialogue between local audit teams with audit and other scrutiny committees;

our reports at individual bodies, our Good Practice Work and our cross-sector summary reports reflecting our unique perspective across the Welsh Public Sector;

our use of data analytic tools, looking for example at financial sustainability across local government and a series of NHS studies;

the use of infographics to provide a snapshot of our work; and

working with bodies – within the bounds of our independence – to support induction and other development training.
Role of NEDs
In his closing, Adrian talked about the role of NEDs, the wide-ranging opportunities to become involved in NED and similar roles in the Welsh public sector, and how NEDs can support effective governance.
Adrian highlighted the vital role that strong and capable NEDs play in supporting high-performing public bodies and noted that many of the weaknesses he has seen in the management of public funds can be traced back to weaknesses in governance and Board oversight.
He then summarised a number of characteristics he has witnessed in effective NEDS, including:
a good understanding of the NED role and of the organisation the NED supports;

visibility to the organisation and being sighted of the main challenges it faces; and

the right personal qualities, including an ability to commit, enthusiasm, an independent and enquiring mind and a willingness to work with executives to develop open and effective relationships.
Drawing on all of his career, Adrian concluded that good governance is founded on principle, rather than compliance. The personal demonstration of the right behaviours from NEDs and others in leadership positions is far more important than process and institutional architecture in supporting healthy governance culture.
A recording of the webinar can be accessed free of charge at: The importance of good governance in the public sector [opens in new window].
In order to access the webinar you may need to register for an account with ICAEW.